Campaign Songs in 1864
The 1864 presidential election has gone down in United States history as one of the most significant. Abraham Lincoln, the Republican candidate and sitting president, attempted to become the first president since Andrew Jackson to win a second term. His opponent was George McClellan, the Democratic Party's nominee and former Union Civil War General whom Lincoln fired on two occasions. Lincoln's campaign emphasized a successful finish to the war to preserve the Union; McClellan's supporters were open to a negotiated peace and a speedy end to hostilities. By 1864, Lincoln gained a reputation for taking liberties with the constitution, while conducting the most deadly war in American history. The republicans were at risk of losing the White House until battlefield successes by the Union army made Lincoln's re-election a logical choice. Despite Lincoln's landslide in the electoral college, George McClellan gathered 45% of the popular vote.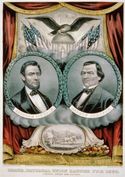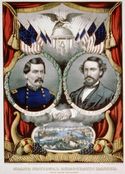 Political campaign songs were critical to rally supporters at speeches and political meetings. The lyrics were designed to build enthusiasm for the party ticket. During the 19th Century, publishers printed songsters and song sheets with popular songs. In 1840, William Henry Harrison first used songs as a form of political advertising, ushering in the modern presidential campaign. For the remainder of the 1800's publishers printed songsters specifically for political campaigns. Many songs were written by party bosses, but others were submitted by supporters and printed in newspapers by editors. The songs almost always used popular songs that would have been known to the entire population: this includes minstrel tunes like Stephen Foster's "Nelly Bly," Civil War songs such as George F. Root's "The Battle Cry of Freedom" and Scottish songs such as "John Anderson, My Jo John." Popular tunes made campaign songs easy for supporters to learn and sing. The lyrics were not always professional; some strained to rhyme and were not meant for a typical stage performance.

All of the songs on this compilation are authentic songs published near the political campaign of 1864 with the exception of "On the Death of President Lincoln," which is from 1865. The first six songs support McClellan and the latter six support Lincoln. Except for a couple of edits because of time considerations, the lyrics are authentic and not edited for content. These are the original words of real voters from a presidential campaign that featured slavery and race as critical components. This album is meant to be an accurate representation of the themes, language, and sentiments of Americans in a heated presidential election. It is now the responsibility of the listener to determine the significance for American society of yesterday and today.